Back Taxes Help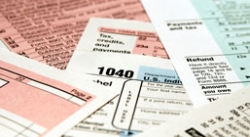 If a back tax debt is weighing you down, it's time to contact Taxation Solutions, Inc. Our experienced staff has the knowledge and training it takes to lift that weight from your shoulders. We've been in the tax help business for 40 years, and we're proud to be fully licensed and insured. We can assist with filing back taxes, coming up with repayment strategies, and so much more. When it comes to back taxes, one of the most important things to keep in mind is that the longer you wait to deal with the situation, the worse it will become. Thanks to snowballing IRS penalties and fees, you may find that your debt balance grows out of control fast. Luckily, Taxation Solutions, Inc. is ready to step in whether you filed a single tax return late or you've reached this perilous worst-case scenario. Give us a call today to get started!
Our goal is to find the best possible solution to your back tax troubles. While you might be tempted to use a high-interest credit card or your retirement funds to pay what you owe, chances are strong that there's a better way to break free from your tax debt. We'll take the time to get to know you and your finances, providing advice and representation aimed at significantly improving your situation. Depending on your needs, our tax assistance might include:
Determining the total amount you owe in delinquent taxes
Filing late tax returns and amending misfiled returns
Petitioning to have IRS penalties abated
Negotiating settlements to ease your financial burden
Stopping wage garnishments that are causing you hardship
Lifting liens and levies that are threatening your assets
Advising you on avoiding future problems with unpaid taxes
In addition to being licensed and insured, Taxation Solutions, Inc. is affiliated with several tax help industry organizations: the American Society of Tax Problem Solvers, the National Association of Tax Professionals, and the National Association of Enrolled Agents. Those affiliations help us stay informed and up to date on all of the tax codes that affect our clients. By keeping our knowledge current, we're able to provide some of the best tax assistance you'll find in and around El Paso.
Emergency Back Taxes Help
Living with unpaid taxes will lead to lots of IRS deadlines. Missing those deadlines will cause your issues to worsen and your debt balance to balloon. Need assistance from a tax specialist to resolve an issue on a very tight timeline? Taxation Solutions, Inc. can help. We offer prompt help with back taxes if you're in an emergency situation, such as the pending seizure of your assets to cover delinquent taxes. You can count on us to work fast without ever compromising the quality of the work we do.
Get more information—and a free estimate for our services—by calling now! 
Back Tax Problems
IRS Back Taxes
Back Taxes Assistance
Tax Help
Delinquent Taxes