Business Tax Problems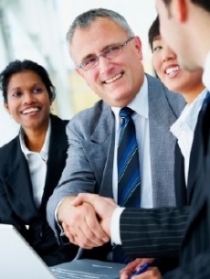 There are many tasks involved in keeping a business running smoothly. From tracking inventory to managing employees to satisfying customers, chances are you have a lot on your mind on any given day. It's no surprise that tax problems sometimes slip through the cracks. Luckily, Taxation Solutions, Inc. is standing by to provide the business tax help you'll need to move past IRS tax problems and get your company back on track. We're available to resolve business tax issues for companies of all shapes and sizes in the El Paso area. Come to us for relief from corporation tax penalties and to get small business tax advice as you launch a new venture. We'll lift the burden of tax problem resolution from your shoulders no matter how large or small your company may be. Contact us today to get started!
Our tax problem specialists are able to assist with:
Back taxes
Tax penalties
Tax settlements
IRS audits
Federal tax court proceedings
Payroll tax problems
And much more!
After getting to know you and your business, we'll come up with a strategy to make your tax problems a distant memory. Perhaps you're eligible to have crippling penalties lifted. Maybe we can negotiate an installment plan to help you pay what you owe without your business going under. From corporate to small business tax help, we'll provide the guidance and support you need to secure the best possible outcome in your dealings with the tax authorities.
Payroll Tax Resolution
Many people come to us for help with payroll tax problems. This common tax problem can have serious effects on your ability to run your business. In fact, if left unresolved, payroll tax penalties can threaten to shut your doors. At Taxation Solutions, Inc., we'll work tirelessly to make sure that doesn't happen, correcting errors in filing and calculation and helping you make things right with the IRS. We'll also advise you on how to avoid unpaid payroll taxes in the future. With a member of our team on your side of the bargaining table, you can hope to wave goodbye to payroll tax issues once and for all.
Taxation Solutions, Inc. is a licensed and insured business tax help firm with 40 years of experience among our staff. We're affiliated with the National Association of Enrolled Agents, the National Association of Tax Professionals, and the American Society of Tax Problem Solvers. We strive to provide efficient and accurate solutions to all sorts of IRS tax problems, calling upon our training and experience to genuinely improve your situation. Schedule your initial consultation and get a free estimate for our tax problem help services in El Paso by calling now! 
small business tax
tax resolution
corporate tax
tax problems